[ultimate_spacer height="50″]
Suggested GREEN Cleaning Product List for Clients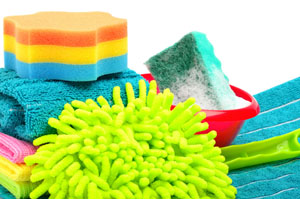 General Cleaning
1. Wood floors, Other Hard Floors, Mirrors, Windows and General Cleaning – Vinegar – Easily bought at Costco or any supermarket. Bona – Found at most big box and supermarkets. (Vinegar is very good EXCEPT for concrete.)
2. Wood work- Murphy's Oil Soap or Method Wood Polish
3. All Purpose Cleaner- Many now available, many big brands are making "green" products. Method, All Purpose, Charlie's Soap
Kitchen and Bath
1. Stainless Steel- Rubbing alcohol or Method Stainless Steel Cleaner
2. Counter tops- Vinegar if a completely non-toxic cleaning is desired. Vinegar kills up to 80% of bacteria, mold and most germs. There is science that reports that living with a degree of bacteria and germs helps are immune system function at its best. A disinfectant can be purchased if desired. Any product that has a small degree of bleach will be adequate. Lysol, Tylex, Scrubin' Bubbles
3. Bath tubs, sinks, toilets, and Tile- Cleanser-Bon Ami or Bar Keeper's Friend– Supermarkets and Wal-Mart
EQUIPMENT
1. Vacuum, preferably with a hard floor cleaning feature.
2. Broom and dust pan
3. Small and large scrub brush
4. Scrubby pads
5. Toilet Brush
6. Pumice Stone- Available at supermarkets and big box stores
The cleaners we refer to you carry all the necessary equipment and supplies if our client chooses not to provide their own. Please call the office if clarification or additional information is needed.